This my personal equipment list, all gear listed here can be available during my studio sessions in addition to the standard equipment available in the studio.
(Prior Notice & Arrangement Required)



Guitar Pedals

Boss GE-7B - [Bass Equalizer]

Boss NS-2 - [Noise Suppressor Pedal]
Eliminate unwanted noise and hum without altering your tone. A unique noise detection circuit preserves the natural attack and envelope, leaving your playing and dynamics intact.
Ibanez TS-808 Tube Screamer - [Carbon Composition Resistors Brown Mod, More/Less Drive Mod & More Bass Mod]

Peterson StroboStomp 2 - [The most accurate tuner money can buy, also with 100% true bypass.]

Radial Tonebone Classic Trimode - [Tube Distortion / Overdrive Pedal]
The Radial Tonebone Classic Trimode is the most progressive pedal ever!

Trimode gives you instant access to superb clean, rhythm and lead tones without tap dancing. And tone you will receive. Based on the heritage of America's finest tube amplifiers, the Trimode delivers five generations of tone from the slight overdrive of early rock & roll to blistering power tones of today's high gain amps.

Following the award-winning Tonebone Classic, the Radial Tonebone Classic Trimode combines the warmth and even harmonics of a 12AX7 tube with our unique dual-stage drive for the natural dynamics and response of a vintage tube amp.

As the name implies, Trimode has three settings: 'True Bypass Clean Mode' for the natural tone of your guitar - direct to your amp; 'Rhythm Mode' with input drive, output gain and our unique Interstage™ drive to precision-tune the mayhem you are about to unleash; and 'Solo Mode' with its own input drive, output gain, and mid boost for days of sustain. Trimode goes even further with a built-in effects loop on the solo channel that lets you instantly engage a delay or pedal chain with a single foot action.

Radial Tonebone Classic Trimode: 3 modes, huge tone and amazing dynamics – finally, a pedal that sounds and feels like a real tube amp!

Radial Tonebone Classic Trimode main features include:

* True bypass clean mode
* Dynamic rhythm distortion mode
* Sustaining lead distortion mode
* 12AX7 tube for natural overdrive tone
* Effects loop on lead solo channel
Radial Tonebone Switchbone - [AB-Y switcher with Exclusive Drag™ control pickup load correction]

Rocktron Zombie Rectified Distortion Pedal
With a monstrously heavy sound, the Zombie creates a rectified asymmetric distortion with user control of the symmetry balance of the distortion output waveform.
Tone Jam FX Stealth Black Sniper GE-7


Guitar Amps

Marshall MF350 - Mode Four Head - [Dual Amplifier with Four Modes]

The Mode Four MF350 has four different modes to switch between. Attitude, stunning good looks and an incredible 350 watts of brutal yet toneful power set the MODE FOUR apart from all other amps. Add to this an arsenal of great sounds, a slew of professional features plus groundbreaking, state-of-the-art hybrid technology and you have a Marshall like no other.
Peavey 3120 - [Versatile three-channel 120 watt amp ]

The Peavey 3120 Guitar Amplifier Head a versatile three-channel amp with 120 watts of power, capable of producing guitar tones from crisp and clean to total high-gain saturation.

The Peavey 3120 Guitar Amplifier Head features three fully independent all-tube, tone-shaping channels. he Lead and Rhythm channels feature gain and volume controls and an active three-band EQ, while the Clean channel offers nicely rounded tones crafted by a passive three-band EQ and volume control. A global master volume governs the amount of power put out by its four EL34 or 6L6GC power-amp tubes, while the gain controls on the Lead and Rhythm channels adjust the amount of 12AX7 gain saturation.

The Peavey 3120 rear panel hosts a unique Peavey custom tone control feature, a three-setting damping switch that alters speaker resonance to create tight, medium and loose tones, from a precise punch for rhythmic attack to a full, widely resonant sound. Also on the rear panel is a footswitchable effects loop with dedicated send and return controls and a line out with level control.
Peavey Classic 50/50 - [8 X EL84 All Tube Poweramp]
This is a monstrous all valve rack mounted power amp for guitar with 8 x EL84 valves in it.

It's also the perfect partner to the Peavey TubeFex Valve Pre Amp
Peavey Musicians Series 1978 - [A truly classic Peavey Amp]

Peavey Triple XXX - [The ULTIMATE tone machine.]

As hot as the name implies, the XXX® rips. An amp not for the faint of heart, 120 watts, utilizes four 12AX7 preamp tubes and four 6L6GC power amp tubes.
Peavey TubeFex Valve Pre Amp - [2 X 12AX7 Valve Guitar Pre Amp]

This is a stunning valve guitar pre amp that uses 2 X 12AX7's and is still the secret weapon of so many famous metal & rock guitarists it's embarrassing...

These things weren't exactly cheap when they first came out, which meant most folks couldn't afford them 10 years ago, never mind the Classic 50/50 to go with it, now they are as rare as hens teeth & super hard to find because when someone manages to get hold of one they never want to sell it...

Mic's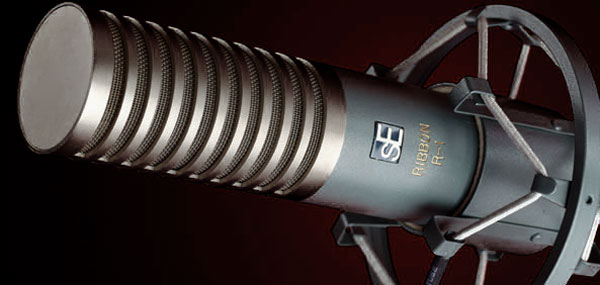 1 x Rode NT2000 - [Variable Pattern Large Diaphragm Condensor Microphone]

1 x sE R1 - [Ribbon Mic]

1 x sE Reflexion Filter

1 x Sennheiser MD421 II

1 x Shure Beta 57A

1 x Shure SM 58

2 x Rode NT5's - [Matched Pair Condenser]

3 x Shure SM 57

4 x Audio Technica KP's


Re-Amping

Radial X-Amp - [Active Re-Amplifier]


Monitoring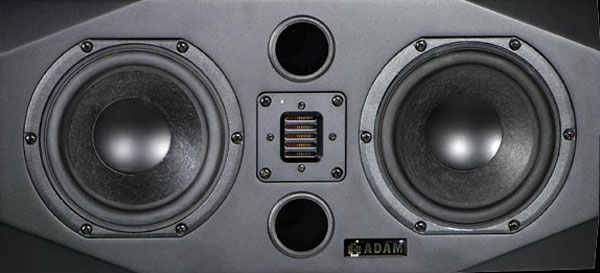 2 x Adam P33A - [3 Way Active Nearfield Studio Monitors ]
The Adam P33A 3 way Active Nearfield Monitors are designed for applications where deeper bass and louder volumes are needed, ideally suited for professional recording and broadcast facilities.

One woofer acts as a full-range driver with the second woofer joining it only below 150Hz. This unusual approach effectively doubles the area and power of the woofer when it needs to respond to deeper frequencies, resulting in an exceptional low end without compromising midrange performance. The P33A is a shielded near/midfield monitor and has three 100W amplifiers that deliver outstanding dynamic performance. It can be used either horizontally or vertically, so that very flexible positioning within the studio is possible. Featuring superb imaging as a result of ADAM's proprietary A.R.T. (Accelerated Ribbon Technology) folded ribbon tweeter, the P33A is ideally suited for professional recording and broadcast facilities.

The tweeter is the same in all Adam monitors. You get the same superior resolution above 2 kHz from these monitors that sets all Adam loud speakers apart from their competitors and by applying moderate equalization to the low end nearly an additional octave in bass response is achieved compared with a passive system. The P-33A woofers and tweeter are each powered by separate 100W RMS amplifiers and are actively crossed over at 150 Hz/1.8 kHz. The system's frequency-response has highs extending all the way to 35 kHz and lows down to 34 Hz (±3 dB).
2 x Beyerdynamic DT100 - [Isolating Studio Headphones]

2 x Yamaha HS50M - [High-Resolution, Biamp 2-Way Powered Reference Studio Monitors]

Beyerdynamic DT150 - [Isolating Studio Headphones]

Goldpoint SA2X - [Balanced Line Precision Stepped Attenuator]

Monitor Volume Control & Switching
Grado RS-1 - [The RS-1 is the Masterpiece of the Grado Headphone Collection]

Featuring handcrafted Mahongany earpieces made using an intricate curing process, Grado has been able to optimize the tonal quality. The RS1 uses dynamic transducers in an open-air configuration, the cups being open-backed. The result is a smooth, coherent sound with detailed dynamics. Frequency response ranges from 12-30 kHz and the drivers are matched to 0.05dB. Weighing 9oz, the headphones are an example of the wonder of mother nature with a gorgeous, honey-colored look.
Sennheiser HD25 - [Professional Monitoring Headphones]

Yamaha HS10W - [High-Resolution, Powered Reference Studio Subwoofer]


Drum Setup




Nick Endorses and exclusively plays TAMA drums

Primary Set


Starclassic Bubinga

in Cherry Black (CBK)
Diameter x Depth
Drum
22" x 18"
Kick
16" x 16"
Floor Tom
14" x 14"
Floor Tom
12" x 10"
Tom Tom
10" x 09"
Tom Tom

Secondary Set


Superstar Custom

in Titanium Fade (CFT)
Diameter x Depth
Drum
22" x 18"
Kick
16" x 16"
Floor Tom
14" x 11"
Tom Tom
12" x 09"
Tom Tom
10" x 08"
Tom Tom

Snare


5.5"x14" Starclassic Copper

[SCS1455H]

Rack
TAMA Power Tower - [PMD800SS] & [PMD80SS]
Bass Drum Pedals
[HP900PTW] - TAMA Iron Cobra Power Glide With [CC900S] - Cobra Coil
Hi Hat Pedal
[HH805] - TAMA Iron Cobra Velo Glide Hi Hat Stand With [HH905XP] - Cobra Clutch
Hi Hat
14" Zildjian Avedis Quick Beat
Cymbals



15" A Custom Fast Crash
16" Avedis Rock Crash
18" Avedis Rock Crash
18" Avedis China Low
20" A Custom Projection Ride

Heads

| | | |
| --- | --- | --- |
| Drum | Batter Heads | Resonant Heads |
| Snares | Aquarian Hi-Energy | Aquarian Hi-Performance |
| Toms | Aquarian Response 2 | Aquarian Classic Clear |
| Kick | Aquarian Super-Kick II | Aquarian Regulator (4 3/4" Hole) Black |

Sticks
CarboStick 7A Premium

Instruments

M-Audio Keystation 49 - Midi Keyboard

Peavey Cirrus BXP 5 String Bass

Peavey V-Type Guitar loaded with EMG81 & EMG85 Pickups


Test Equipment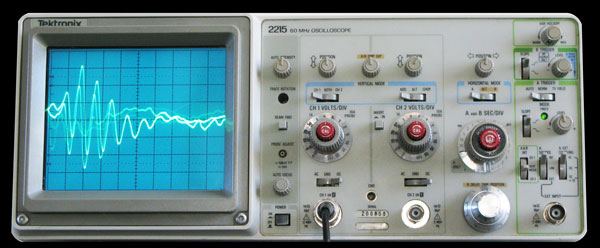 CSI 474 - [Desoldering Station]

Farnell TSV70 MK2 - [Stabilised DC Power Supply]
Stabilised Power Supply 2 ranges available in one unit. Range 1: 0-35V 0-10A. Range 2: 0-70V 0-5A
FLUKE 179 - [Digital Multimeter]

True RMS voltage and current measurements
0.09% basic accuracy
6000 count resolution
Digital display with analog bargraph and backlight
Manual and automatic ranging
Display Hold and Auto Hold
Frequency and capacitance measurements
Resistance, continuity and diode measurements
Temperature measurements
Min-max-average recording
Smoothing mode allows filtering of rapidly changing inputs
Easy battery exchange without opening the case
Closed case calibration through front panel
Ergonomic case with integrated protective holster
EN61010-1 CAT III 1000V / CAT IV 600V
Measures twice as fast as other multimeters
FLUKE PM3380B - [100 Mhz Combiscope]

M205 - Precision Gold - [Sweep Function Generator]

Tektronix 2215 Oscilloscope - [60MHz Dual Timebase]

Tektronix 2215 is a modern portable Dual Trace Oscilloscope with a bandwidth of 60 MHz. Signals are displayed on a large, bright CRT (8 cm x 10 cm/illuminated graticule). Delayed time measurements.

The 2215A can display four traces; vertical channels 1 and 2 at the A sweep rate, and vertical channels 1 and 2, delayed, at the B sweep rate. Many different trigger modes (also TV line and TV field trigger). Auto-intensity and auto focus.

Vertical deflection:

Deflection factor: 2 mV/cm to 10 V/cm; 1-2-5 sequence; continuously variable between steps to at least 25 V/cm.
Display modes: A, B, ADD (normal and inverted), ALT and CHOP (chop rate 250 MHz)

Horizontal deflection:

Time base A: 0,05 µs/cm to 0.5 s/cm; 10x magnifier extends max sweep rate to 5 ms/cm.
Time base B: 0,05 µs/cm to 50 ms/cm; 10x magnifier extends max sweep rate to 5 ns/cm.
Horizontal display modes: A, alternate, B. Electronic switching between intensified and delayed sweep.
Sweep delay: Continuously variable by means of a vernier control.
XY-Operation up to 2 MHz.
Wavetek Model 188 - [4MHz Sweep/Function Generator]

Weller PS3D-FE - [Soldering Station]